CURRENT EXHIBITION

Scrollbars by Jan Robert Leegte
22 April - 24 June 2005
Mon - Fri
10am - 5.30pm

Jan Robert Leegte's 'Scrollbars' is a sculptural installation which references the architecture of software.



Scrollbars by Jan Robert Leegte

Jan Robert's work investigates the point where the mind starts to confuse what is reality and what is illusion, with particular focus on the physical experience of the audience. His installation work isolates elements of the Windows interface, which are in turn projected onto various structures; previously internet-based, he moved to physical installations through a desire to develop a more meditative relationship between the audience and the work.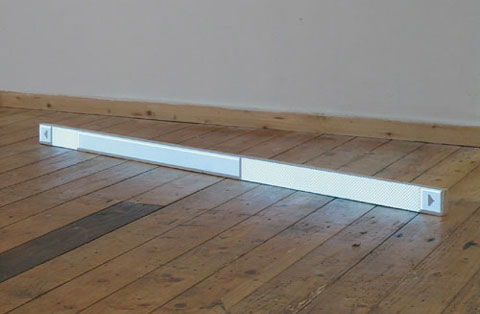 Scrollbar by Jan Robert Leegte

The exhibition will show a selection of Scrollbar pieces for the first time: a minimal ground piece, Scrollbar, a horizontal scrollbar isolated from its original context and given a presence in a physical space, along with the double Scrollbars and a new installation, a complex composition of many scrollbars forming a rectangular screen.
Themes explored through the series range from a minimal sculptural statement in Scrollbar, through the adaptation of architectural space and references to issues around virtual space in Scrollbars, to the continuation and consideration of modernist compositional aesthetics and simplicity in Scrollbar Composition.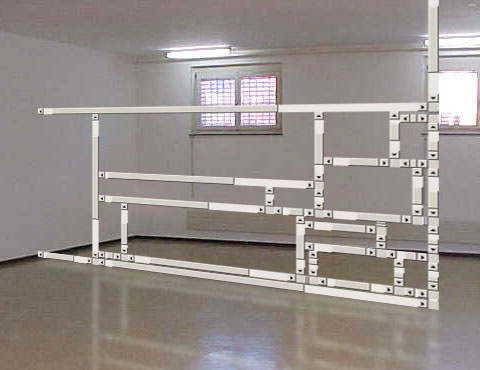 Scrollbar Composition by Jan robert Leegte

Jan Robert started exploring the sculptural properties of internet browsers and software in general in 1997, using buttons, scrollbars, and table borders in online installations; in earlier sculptural works he used unusual materials, for instance creating walls from sheets of Xerox copy paper or large slabs of brown packing paper. The various elements of the browser window appear to have a striking physical reality, gained through user familiarity, interactivity and animation. Most people consider the scrollbar to be a virtual object, not weighted with any real-world significance, but in use it triggers reactions such as frustration, anger, and boredom-induced clicking. Reactions like these suggest a subconscious acceptance of the inherent 'reality' of these objects.
Jan Robert studied Architecture at the Technical University in Delft and Fine Arts at the Willem de Kooning Academy in Rotterdam. He lives and works in Amsterdam.

Read Peter Luining's interview with Jan Robert Leegte:
http://www.netartreview.net/weeklyFeatures/2004_03_21_archive.html

Jan Robert's recent curatorial project, 'The Anatomy of the Now':
http://www.theanatomyofthenow.org/

Jan Robert Leegte's Website:
http://www.leegte.org

+ To stay informed about the exhibition programme and any other events at the Medialounge, please sign up to the medialounge_list.




PAST EXHIBITIONS
Sodaplay Transfigured by Soda
3 Feb - 8 April 05
An installation presenting animated models created by users around the globe.

rand()%
5 Nov 04 - 7 Jan 05
The net.radio station, rand()%, in a gallery context. Research and investigation into random number generation and sound.

Jen Southern
12 July - 24 Sept 04
A Global Positioning System [GPS] is used to explore how memory is linked to urban and domestic place.

Thomson & Craighead
23 April - 25 June 04
Animated live Internet news feed presented on both sides of a screen suspended in the gallery.

Jonah Brucker Cohen
20 Feb - 2 April 04
A microphone invites people to speak, esulting in a tidal wave of sound traversing 3 different rooms.

Lia and Miguel Carvalhais
3 Oct 03 - 12 Jan 04
Large scale projection responded to the non-movement of visitors to the space.

Mongrel
16 May – 20 June 2003
National Heritage challenges attitudes towards a series of racially stereotyped faces.

Q4U
16 May – 20 June 2003
Quake 3 mod and live link between Huddersfield and Manchester

mirror++
28 Feb – 11 April 2003
Human movement and the organic beauty of graphic algorithms

ixi-software
17 Oct – 27 Dec 2002
Prototypes and applications relating to the ixi-software project

Typographic Tree
1 July - 20 Sept 2002
Interactive media installation by Digit

Interspace
10 May 28 June 2002
Survey of Media Arts Centre, Bulgaria

Swansong TV
20 March 2002
Live streaming event

Lucy Kimbell - LIX-E
Nov 2001 - Jan 2002

Maps Routes and Shortcuts – Mapping Cyberspace
Jan - March 2002

Tech and the City


Oct - Dec 2001