PAST EXHIBITIONS / IXI-SOFTWARE /
"The computer is a creative space, a world where we can build conceptual structures in the form of programmes which influence and interact with our ways of working. New tools create new results."
ixi

Thor Magnusson and Enrike Hurtado are core members and founders of the international ixi-software project. ixi-software is a growing network of experimentalists in the field of computer music and computer music software. ixi produce various types of digital work in their studios, but are primarily concerned with producing prototypes and applications which concentrate on new modes of interactivity in music software. ixi create modes of interaction which do not mimic the physical world, but produce innovative working methods.
| | | | |
| --- | --- | --- | --- |
| | | | Thor Magnusson + Enrike Hurtado [ixi] |
The applications are free to download from the ixi website.
This exhibition runs concurrently with ixi's tenure as the first artists in residence at The Digital Research Unit. For more information about the DRU visit:

http://www.druh.co.uk
http://www.ixi-software.net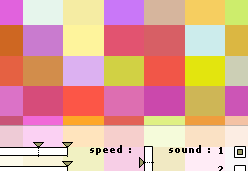 Screenshot from one of ixi's audio software tools Users are able to create music by interacting with various parameters.
PAST EXHIBITIONS
Typographic Tree
1 July - 20 Sept 2002
Interactive media installation by Digit

Interspace
10 May 28 June 2002
Survey of Media Arts Centre, Bulgaria

Swansong TV
20 March 2002
Live streaming event

Lucy Kimbell - LIX-E
Nov 2001 - Jan 2002

Maps Routes and Shortcuts – Mapping Cyberspace
Jan - March 2002

Tech and the City


Oct - Dec 2001