PAST EXHIBITIONS / MIRROR++ /
JUHA HUUSKONEN
Fri 28 Feb - Fri 11 April 03
10:00 am - 5:30 pm
Mon - Fri

mirror++ connects human movement to the organic beauty of graphic algorithms. The audience experience their own image transformed into a complex visual structure. The audience is not only able interact with this structure - the audience IS the structure. By moving around, the audience members engage in a dialogue with their new, extraordinary mirror image.


| | | | |
| --- | --- | --- | --- |
| | | | screenshots from mirror++ |
---
MEDIALOUNGE NIGHTS
Juha Huuskonen / mirror++ /
Fri 28 Feb 03
7:00pm - 11:00pm
Café Bar
The Media Centre

A presentation by Finnish digital artist Juha Huuskonen, marking the opening of the first UK exhibition of mirror++. More

---

Juha Huuskonen
Juha Huuskonen (b. 1974) is an artist, software designer, educator and cultural networker focusing on work in which collaboration is an essential part of the process and the result. His work includes initiating and developing organisations and cultural events, creating interactive media projects and teaching cross-disciplinary courses and workshops.

Juha's artwork often takes the form of an installation or performance. These works include experiments with user interaction and can be characterised as audiovisual instruments. Conceptually he is concerned with the exploration of structures of mass media and communication. His two most recent projects are the interactive installation mirror++, and on-line art project The Moment of Long Now, both of which have been presented at numerous events and exhibitions internationally.

Juha is a founding member of the media art collective katastro.fi and was the Chairman of the collective during it's first four years of activity. Katastro.fi received numerous awards for it's activity during these years, including the prestigious Young Art in Finland Award. Juha was also one of the initiators and curators of the first Avanto – Helsinki Media Art Festival held in November 2000. Last year he was responsible for designing New Media AiR, a new media art residency programme for Nifca, Nordic Institute for Contemporary Art.

Juha's current affiliations include the role of Chairman of media art organization Piknik Frequency, Director of Olento cultural production company and Co-Director of pikseliÄHKY // pixelACHE audiovisual laboratory. Juha has been teaching programming of interactive graphics since 1998. He has thought short and intensive workshop in various art and design schools and institutions, including School of Visual Arts in New York, Centre for Contemporary Art Glasgow, University of Art and Design Helsinki and Sibelius Academy in Helsinki. He has also organised various cross-disciplinary workshops, such as the tabula.katastro.fi courses and the AvantoAcademy series.

http://www.juhuu.nu

---
FORTHCOMING EXHIBITIONS
Confirmed Medialounge exhibitions for 2003:


Web 3D Art
May - June 2003
Web3D Art is organised and supported by Cornerhouse, Manchester, UK and Ravensbourne College of Design and Communication, Kent, UK. It is authorised and supported by the Web3D Consortium, and ACM.

http://www.web3dart.org/n,1,1.html

Mongrel
July - September 2003

"Mongrel is a mixed bunch of people, machines and intelligences working to celebrate the methods of London street culture. We make socially engaged culture, which sometimes means making art, sometimes software, sometimes setting up workshops, or helping other mongrels to set things up.

We do this by employing any and all technological advantage that we can lay our hands on. Some of us have dedicated ourselves to learning technological methods of engagement, which means we pride ourselves on our ability to program, engineer and build our own software, while others of us have dedicated ourselves to learning how to work with people.

Mongrel sets up strategic alliances to expand and contract. Sometimes fifty mongrels work on a project, sometimes one."

The Core Members are Matsuko Yokokoji, Mervin Jarman, Richard Pierre-Davis and Harwood.

http://www.mongrelx.org/


Lia + Miguel Carvalhais
October - December 2003
Artist, programmer and designer Lia [Austria] has over the past few years created some of the most extraordinary interactive works. These delicate organic audio visual mutations represent a unique and highly influential body of work.

Recently Lia has been collaborating with designer, teacher and musician, Miguel Carvalhais [Portugal] - part of the '@c' collective based in Porto. The outcomes from this collaboration can be software, live audio visual musical performances or design projects.

| ¿¿¿ StrangeThingsHappen ¿¿¿ |··················|
||||··············································|
||||--------------| http://www.turux.org
||||--------------| http://www.re-move.org
||||--------------| http://lia.sil.at/
||||--------------| http://www.wofbot.org
||||··············································|
| ¿¿¿ StrangeThingsHappen ¿¿¿ |··················|

http://www.at-c.org

To stay informed about the exhibition programme and any other events at the Medialounge, please sign up to the medialounge_list.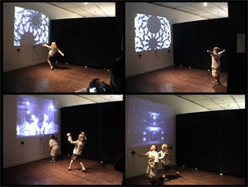 mirror++installation shots
PAST EXHIBITIONS

ixi-software
17 Oct – 27 Dec 2002
Prototypes and applications relating to the ixi-software project

Typographic Tree
1 July - 20 Sept 2002
Interactive media installation by Digit

Interspace
10 May 28 June 2002
Survey of Media Arts Centre, Bulgaria

Swansong TV
20 March 2002
Live streaming event

Lucy Kimbell - LIX-E
Nov 2001 - Jan 2002

Maps Routes and Shortcuts – Mapping Cyberspace
Jan - March 2002

Tech and the City


Oct - Dec 2001