PAST EXHIBITIONS / MONGREL /
Fri 8 Aug - Fri 27 Sep 03
10:00 am - 5:30 pm
Mon - Fri

Mongrel are a collective formed in 1995 out of a desire to combat socially excluding attitudes towards new technologies.

"The fact that people's skins are of different colour, or that people manifest their intelligence in different ways, or that people are born to different social classes needs have no more bearing on their place in the world than the difference in the colour of their toe-nails - if they have any."
Mongrel
The current Medialounge Exhibition presents the provocative National Heritage, a large scale audiovisual interactive work which challenges the viewer's attitudes towards a series of racially stereotyped faces. Accompanying National Heritage we also present Natural Selection, their search engine exploring racial politics and the data-classification systems of search engines such as Yahoo, Heritage Gold, a hack of Photoshop in which the red, blue and green colour options are replaced by Aryan, African and Asian options, and Nine9, Graham Harwood's latest work of 'Social
Software'.

Mongrel will also run a two day workshop at the end of August using their latest work, Nine9. If you are interested in participating, please contact:

[email protected]
Please note that places are limited.

Mongrel have previously shown work at Ars Electronica, Barbican Art Gallery, ICA and the Pompidou Centre, Paris; they have also created an online project for Tate Modern, mirroring the Tate's website while offering a critical reading of the Tate collections and ideology.
http://www.scotoma.org
http://www.mongrelx.org
http://9.waag.org

---
MEDIALOUNGE NIGHTS
Graham Harwood / Mongrel /
Thu 7 Aug 03
7:00pm - 9:30pm
Café Bar
The Media Centre

Presentation @ 7:30pm

To mark the opening of the first UK exhibition of Mongrel's National Heritage, Graham Harwood will present and discuss the work of the Mongrel collective.


Images:
National Heritage
"Mongrel is a mixed bunch of people, machines and intelligences working to celebrate the methods of London street culture. We make socially engaged culture, which sometimes means making art, sometimes software, sometimes setting up workshops, or helping other mongrels to set things up.

"We do this by employing any and all technological advantage that we can lay our hands on. Some of us have dedicated ourselves to learning technological methods of engagement, which means we pride ourselves on our ability to program, engineer and build our own software, while others of us have dedicated ourselves to learning how to work with people.

"Mongrel sets up strategic alliances to expand and contract. Sometimes fifty mongrels work on a project, sometimes one."

Mongrel Core Members are Matsuko Yokokoji, mervin Jarman, Richard Pierre-Davis and Harwood.

---
FORTHCOMING EXHIBITIONS
Confirmed Medialounge exhibitions for 2003:

Lia + Miguel Carvalhais
October - December 2003
Artist, programmer and designer Lia [Austria] has over the past few years created some of the most extraordinary interactive works. These delicate organic audio visual mutations represent a unique and highly influential body of work.

Recently Lia has been collaborating with designer, teacher and musician, Miguel Carvalhais [Portugal] - part of the '@c' collective based in Porto. The outcomes from this collaboration can be software, live audio visual musical performances or design projects.

| ¿¿¿ StrangeThingsHappen ¿¿¿ |··················|
||||··············································|
||||--------------| http://www.turux.org
||||--------------| http://www.re-move.org
||||--------------| http://lia.sil.at/
||||--------------| http://www.wofbot.org
||||··············································|
| ¿¿¿ StrangeThingsHappen ¿¿¿ |··················|

http://www.at-c.org

To stay informed about the exhibition programme and any other events at the Medialounge, please sign up to the medialounge_list.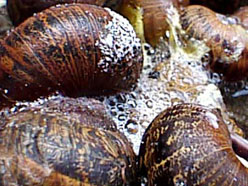 PAST EXHIBITIONS

Q4U
8 Aug - 27 Sep 2003


mirror++
28 Feb – 11 April 2003
Human movement and the organic beauty of graphic algorithms

ixi-software
17 Oct – 27 Dec 2002
Prototypes and applications relating to the ixi-software project

Typographic Tree
1 July - 20 Sept 2002
Interactive media installation by Digit

Interspace
10 May 28 June 2002
Survey of Media Arts Centre, Bulgaria

Swansong TV
20 March 2002
Live streaming event

Lucy Kimbell - LIX-E
Nov 2001 - Jan 2002

Maps Routes and Shortcuts – Mapping Cyberspace
Jan - March 2002

Tech and the City


Oct - Dec 2001