CURRENT EXHIBITION
Aus Lage [in Arbeit]
by LIA + MIGUEL CARVALHAIS

Fri 3 Oct 03 - Mon 12 Jan 04
10:00 am - 5:30 pm
Mon - Fri


Media artist and graphic programmer Lia [Austria], and designer and musician Miguel
Carvalhais [Portugal] have created a time based audio visual interactive[?] installation work, commissioned by The Media Centre and specifically designed for the Medialounge.

Over recent years Lia and Miguel have been collaborating on various projects such as
@c + lia [developing the relationship between digital audio and images, performed in realtime], Revdesign and online digital and interactive art projects.

Screenshots from Aus Lage [in Arbeit]

Aus Lage [in Arbeit] is a dramatic new departure for Lia and Miguel. The new work is a large scale projection which responds over three months to the non-movement of visitors to the space. Both the visual outputs and intrinsic soundscape are programmed using generative coding techniques producing an unexpected abstract environment, which evolves over the three months of the installation. Various loops and sequences combine in different cycles to produce an ever changing cycle of formal elements, changing shapes, building the soundscape and shifting between monochrome and the full spectrum of colours.

http://www.re-move.org
http://www.revdesign.pt
http://www.at-c.org


| ¿¿¿ StrangeThingsHappen ¿¿¿ |··················|
||||··············································|
||||--------------| http://lia.sil.at/
||||--------------| http://www.wofbot.org
||||··············································|
| ¿¿¿ StrangeThingsHappen ¿¿¿ |··················|


---
Ultrasound 2003
@c + lia will perform live at this year's Ultrasound Festival held at The Media Centre in November.

http://www.ultrasound.ws/atc_lia.html
---
MEDIALOUNGE NIGHTS
LIA + MIGUEL CARVALHAIS

Thu 2 Oct 03
7:00pm - 9:30pm
Café Bar
The Media Centre

Presentation @ 7:30pm

Lia and Miguel will present and discuss their design work as the team at the Porto based Revdesign, as well as present and discuss their work as artists, including the new work in the Medialounge, Aus Lage [in Arbeit].

---
FORTHCOMING EXHIBITIONS
Confirmed Medialounge exhibitions for 2004:

Jonah Brucker Cohen
Feb - April 2004
Jonah Brucker-Cohen
Jonah Brucker-Cohen works as a Research Fellow in the Human Connectedness Group at Media Lab Europe in Dublin, Ireland and a PhD candidate in the Networks and Telecommunications Research Group [NTRG] at Trinity College Dublin. He received a MPS from the Interactive Telecommunications Program at New York University's Tisch School of the Arts, NYC and worked there from 1999 to 2001 as an Interval Research Fellow creating interactive digital / networked projects. His focus is on subverting existing relationships to human/networked interfaces by building new real-world inputs to networks, redefining how information is used and disseminated, and shifting virtual processes into physical forms through networked devices and experiences. His writing has appeared in WIRED Magazine, Rhizome.org, I.D. Magazine, Print Magazine, Edesign Magazine, Time Out New York, he is an Internet music columnist at Magnet Magazine, and was chosen as a net.art nominating judge for the 2003 Webby Awards. He is the co-founder of the Dublin Art and Technology Association [DATA Group] and won the 2001 International Browserday with his project, "Crank the Web".
His work has been shown both in the US and internationally at events such as Ars Electronica, The Whitney Museum of American Art: Artport, DEAF, SIGGRAPH 2000, VRML-Art 99, Art in Motion II in Los Angeles, F.I.L.E. Festival 2000-2001 in Brazil, Nordic Interactive Conference [ElectroHype] festival in Copenhagen, Machida City Museum of Graphic Arts in Tokyo, ISEA, Soundtoys.net, Transmediale.02, European Media Arts Festival, and the 8th Annual New York Digital Salon in NYC and Spain.

http://www.coin-operated.com

+ To stay informed about the exhibition programme and any other events at the Medialounge, please sign up to the medialounge_list.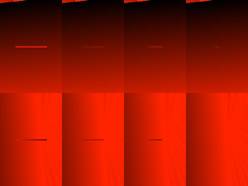 PAST EXHIBITIONS

Mongrel
3 Oct 2003 – 12 Jan 2004
National Heritage challenges attitudes towards a series of racially stereotyped faces.

Q4U
16 May – 20 June 2003
Quake 3 mod and live link between Huddersfield and Manchester

mirror++
28 Feb – 11 April 2003
Human movement and the organic beauty of graphic algorithms

ixi-software
17 Oct – 27 Dec 2002
Prototypes and applications relating to the ixi-software project

Typographic Tree
1 July - 20 Sept 2002
Interactive media installation by Digit

Interspace
10 May 28 June 2002
Survey of Media Arts Centre, Bulgaria

Swansong TV
20 March 2002
Live streaming event

Lucy Kimbell - LIX-E
Nov 2001 - Jan 2002

Maps Routes and Shortcuts – Mapping Cyberspace
Jan - March 2002

Tech and the City


Oct - Dec 2001